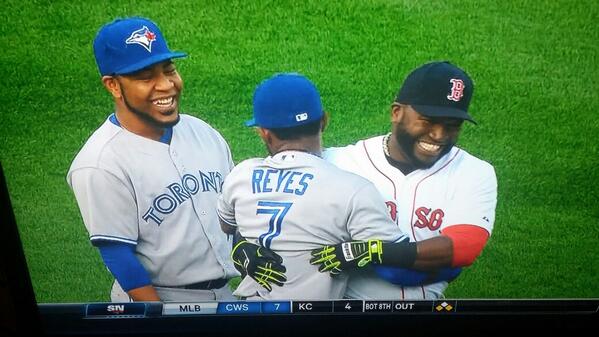 This was the scene before the game. I didn't happen to see it until after the game, but it's kinda funny in hindsight that while Big Papi (0 for 4 with 2 huge strikeouts) and Jose Reyes (1 for 5, lacking in the field) horsed around, Edwin Encarnacion just stood there laughing.

Edwin would, indeed have the last laugh. In the third, with a man on:
If you literally hit a ball out of the park and into the parking lot outside, does that give you the right to hold back and admire it? Who cares? It's Boston! and that made it 2-0 Jays.
Meanwhile, the loveable J.A. Happ was on the mound this evening. The Happster. Mister I think I'm a Major League starter and that's that, despite my not being able to get anyone out in the bullpen. Through the first three innings, he was untouchable – striking out six of the first nine hitters he faced. His fastball was dancing, and he was getting ahead in counts.
But this all seemed to fall apart in the 4th, after Erik Kratz' deep solo-homer made it 3-zip. Happ lost the strike zone, walking two consecutive batters, then had some rough luck on a Mike Napoli come-backer. Had he left it alone, it would have been an inning-ending double play. Instead, he reached out and got a piece of it – but couldn't make a play. Bases loaded, one out.
Brett Lawrie was back at third tonight, and you can guarantee Juan Francisco would never make the following play:
Knocking it down, touching 3rd, throwing to the plate to get the plodding Big Papi – a 5-2 double play, and it remained 3-0 through 4.
In the 5th, the Jays would take on where they left off. Reyes and Cabrera hit back-to-back doubles to make it 4-0, and Doubront would get yanked from the game with (later diagnosed) shoulder fatigue. Again, you'd feel sorry for the guy, except that… you know, it's Boston.
So in comes Edward Mujica:
With two homers and 4 RBI on the night, EE now has 9 homers and 20 RBI in 19 games this month. His 11 on the season ties JBau, and his 35 RBI lead the team. So much for the slow start… 6-0 Jays, sunshine and roses… right?
Wrong. The Happster didn't seem to enjoy long lay-offs between innings – he'd allow three doubles and two hard-hit fly-outs in the 5th to make it 6-2, then up 7-2 in the 6th, he'd allow a two-run shot by Jonny Gomes to make it 7-4. First three innings: 1 hit, no walks, 6 Ks. The next 2+: 4 runs on 6 hits with 2 walks and 0 Ks. That'd end his night.
Luckily, despite a few singles here and there, the bullpen got it done over four eventful, but scoreless innings.
There were dingers, there was drama, there was intrigue – all you could ask for in a ballgame.
THE GOOD
– We already touched on EE, so let's talk about Melky Cabrera going 4-for-5 with a crushed solo-shot off the FAIR pole, 2 doubles, 3 runs, and 2 RBI.
– Dustin McGowan (thanks to his own two hits allowed) and Aaron Loup (thanks to 2 Steve Delabar runners) both got out of some nail-biting jams. Refreshing, given the struggles of the bullpen a couple weeks ago.
– Casey Janssen also got himself into a jam – and got himself out of one as well, by striking out David Ortiz with nobody out, then drawing a game-ending double-play grounder from Mike Napoli. 4/4 in save opportunities.
THE BAD
– Brett Lawrie, though brilliant at his favourite position, was 0-for-5 at the dish. Is the switching back and forth harming his production at the plate? And is that a valid excuse?
– As I mentioned, Delabar allowed a hit and a walk to kick off the 8th – that's not what you expect from a set-up man – especially one with that beard.
– Steve Tolleson and Kevin Pillar were a combined 0-for-6 with 3 strikeouts. Two holes in the lineup surrounding the power bat of Erik Kratz.
I guess for this, you'd have to co-blame Gibby and AA. Platoons are nice when you've got Major Leaguers on both ends of it. I'm sorry, but Kevin Pillar is not a Major League bat (prove me wrong, kid) and Steve Tolleson is realistically not a Major Leaguer either.
I know we've discussed the struggles of Francisco against lefties, and obviously Lawrie was brilliant at 3rd – but if you're going to play him at second, I believe you need to keep him there against lefties as well. Perhaps the answer at 3rd against lefties is Buffalo's Andy LaRoche? Just a thought…
THE UGLY / THE RANT
If you think Gibby messing around with platoons and making the odd bullpen mistake is bad, how about John Farrell's brilliant decision-making tonight?
In the 6th, with two on, nobody out and Dustin McGowan struggling to find his comfort zone, Farrell gets David Ross (who's got some pop in his bat) to bunt. He winds up popping out to Lawrie at third for the first out – McGowan would get out of the inning unscathed.
In the 8th, with 2 on, nobody out, and Aaron Loup coming in, he gets rookie Brock Holt (who had two hits, including a deep double) to bunt, handing the Jays the crucial first out of the inning.
Speaking of John Farrell being stupid, remember last year when he was quoted comparing how the Jays' development is so inferior to Boston's?
How about letting Stephen Drew go in the off-season, and telling 22-year-old rookie Xander Bogaerts that he's the new starting shortstop, only to give up on the experiment less than two months into the season and bring Drew back?
Bogaerts sure seems pleased about the news – tonight, he looked completely complacent on an airmailed throw to first, and even worse on a misplayed throw to third.
Remember: The only different between the Jays and the Sox last season was a little bit of luck both ways. And John Farrell is not a wizard.
THE NEAT
– Rob Rasmussen was quoted saying that it'd be an absolute dream come true facing David Ortiz in this series. In the 7th, he was called in to face one hitter for his Major League debut – and he got Big Papi to ground out.
– J.P. Arencibia was sent down to AAA today. No, that's not neat in and of itself, but what WAS neat was what he said about it to Dallas reporter Evan Grant:
"Fortunately for me I got to see Edwin Encarnacion when he got designated and everyone passed on him," Arencibia said. "He came back to Triple-A when I was in Triple-A in 2010. I saw him go down there, work hard, get back, and then he's where he's at today. I'm not the first person it's happened to. It's all about how you take it."
And he said that BEFORE Edwin hit the two homers tonight!
Point is: J.P.'s a good kid, he's just a little blinded by his own ineptitude, is all.
THE NEXT
Drew Hutchison is coming off a 3-hit shut-out of the Rangers. Clay Buchholz is 2-3 with a 6.17 ERA. Keep winning the winnable games, fellas…
This was a long one, so I'm gonna follow the lead of my colleagues and provide a little reward for making it to the end:
Wonder what he said?
For Jays Balk, I'm @TheAsherRoth