(Thanks Elise Amendola!)
It was an odd night around the Majors this evening. At the Trop in Tampa, the A's beat the Rays 3-2, even though they were out-hit 9-1. In Cleveland, the Tigers lost 11-10 – on a bases loaded BALK in the 13th inning. In Pittsburgh, the Orioles trailed 8-6 after two innings, en route to a 9-8 loss.
In Boston, Edwin Encarnacion became the first Blue Jay ever to have 4 multi-homer games in a month as the Blue Jays won their 8th of 10 games on the road in May – and yet, something was strange about this victory.
The Jays led from the top of the 2nd on, thanks to the 2014 ineptitude of Clay "greasy-hair" Buchholz – but they weren't satisfied with what they'd accomplished, and for better or for worse, a couple guys wore their emotions on their sleeves tonight despite a 6-4 victory.
Jose Bautista was held hitless in 3 recorded at-bats, and after striking out in the 4th inning, he was seen smashing his bat in the dugout. They were up 4-0, but he was clearly upset that he'd left 5 runners on base at that point. Perhaps a little hard on himself, considering his numbers so far this season.
Or perhaps he was frustrated that he'd let his Bash Hermano pass him in both home runs (13-11) and RBI (38-30) by the end of the 3rd inning – had he hit three homers of his own at that point, he'd be at the 38 RBI plateau too. COME ON, JOSE! STEP IT UP!
Later in the game, the normally-subdued Gibby was not impressed at all with Mark Ripperger's strike zone. In the 6th, after Aaron Loup walked BROCK HOLT! to load the bases on a very close call for ball 4, Gibby barked at Ripperger from the dugout. Loup would strike out Grady Sizemore, despite another close ball call, and after the inning ended, Gibby decided to display his interpretation of Ripperger's strike zone.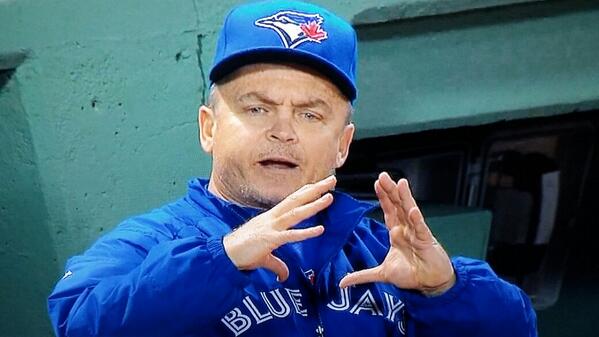 I smell a photo caption contest!
In the end, the Jays would hand the Sox their 6th straight loss (which is hilarious), and thanks to the afore-mentioned O's loss to the Bucs, the Jays and Yankees now hold a share of first place! By an entire half-game! Strike up the band! (only watch to 0:13!)
THE GOOD
– EE leads the Majors with 11 home runs this month. He now has four in the 1st two games of this series. What a beast.
– Drew Hutchison allowed just a run on six hits,walking 2 and fanning 4. He threw 102 pitches in just 5.2 innings – compared to 103 pitches in 9 shutout innings in his last start – but this was likely because the Red Sox, despite their noted struggles, know how grind out at-bats. His ERA drops to 3.45.
– Jose Reyes, Dioner Navarro and Adam Lind at two hits apiece – Lind had a triple!
– Casey Janssen picked up his 5th save in 5 opportunities, retiring the heart of the Red Sox order, while only surrendering a single hit.
THE BAD
– Brett Lawrie played both 2nd and 3rd, and didn't make any mistakes at either. But he was 0 for 5 with a strikeout and 4 left on base.
– Juan Francisco was pretty quiet at the dish, even though he did score a run.
– Gibby over-managed a little bit – bringing in Tolleson for Francisco worked out as he singled immediately, but I don't understand pinch-hitting Kratz for Lind – Lind's got two hits, and is your clean-up hitter. To me, he's better than a platoon bat this year.
THE UGLY
Esmil Rogers entered the game in the 8th inning with a 6-1 lead and proceeded to allow a single and two very hard-hit doubles. Brett Cecil would allow his inherited runner to score, giving him a line of 3 runs on 3 hits in 1/3 of an inning. His ERA jumps to 6.97.
As I asked on the Twitter feed earlier, is it his surname, or Alex Anthopoulos' embarrassment that if he DFA's Rogers, then the Jays gave up Yan Gomes and Mike Aviles for nothing – that is keeping him on the roster more? It's certainly not his work on the mound – so, it may be time to make a decision on him.
THE NEAT(E)
Umm… I got nothin', except a funny tweet… from a guy named Neate!
THE NEXT
The Jays will look for the sweep in an afternoon getaway game! And what a getaway it should be, with two fast-working lefties on the mound. Mark Buehrle is 7-1 with a 2.11 ERA – and that's insane. Jon Lester has nearly been just as good at 4-5 and 2.67.
If both Lind and Francisco sit again, so help me Jebus…
For Jays Balk, I'm @TheAsherRoth