(Thanks Fred Thornhill!)
Turns out this Jose Abreu fellow is for real. R.A. Dickey found this out the hard way tonight.
After four innings of a quick and efficient pitching duel between Dickey and… really? John Danks? The game would become a home run derby of sorts with seven homers split between the two squads. Unfortunately for the Dickster, four of those would (as usual) come between the 5th and 7th inning at his expense.
Dickey actually had a no-hitter going through those four innings with six strikeouts up until the 5th, when Abreu would crush a very Blue Jay-like laser beam second deck solo-shot to left to open the scoring. It was his 24th home run of the season, tying Edwin Encarnacion for the league lead.
Three batters later, Dayan (not Diane, apparently) Viciedo would take Dickey deep again with his 7th. 2-0 Sox, with a suddenly struggling Jose Reyes at the top of the lineup (by suddenly, I mean… tonight) and a bottom six of Dioner Navarro (hitting CLEAN-UP), Brad Glenn (ROOKIE MAKING MLB DEBUT), Steve Tolleson, Munenori Kawasaki, Anthony Gose and Josh Thole.
It's lineups like this that give fuel to the Gibby hater fire. Though Kawasaki picked up another couple of clutch hits, he should not be hitting higher than 9th. Glenn, as you'd imagine, did nothing. Gose suddenly doesn't seem to like to bunt – or swing at strikes. Tolleson, a utility man, hitting SIXTH?
Speaking of 6th, this was when the Jays' bats patient (though struggling) approach paid off against Danks. First, Edwin would Edwing – a moon-shot as usual – to take the major-league lead again. Navarro, though an odd choice in the clean-up role, shows off that same power stroke from the other side of the plate this time. This would tie the game. Momentum. You can do it, R.A.!
No. Abreu would hit another lead-off homer to tie Edwin once again with 25, and immediately take back the lead. Two batters later, Alexei Ramirez would hit a 2-run shot to make it 5-2, ending Dickey's night, almost predictably, at six PLUS innings with five runs allowed on five hits.
Just as an extra f%$k you from the baseball Gods, Dickey's only walk of the game would be the only run on base for any of the home runs hit by either team.
The Jays would put up a 9th inning rally, with Colby Rasmus hitting a pinch-hit lead-off homer off "closer" Ronald Belissario, then loading the bases with one out (thanks to a bobbled should-have-been-game-ending-grounder by pinch-hitter Adam Lind).
Impressively, this rally was instigated by the unpredictable Kawasaki and Gose who had seeing-eye singles. Kawasaki would score on a near-double-play grounder by Reyes, and the game would end on an unspectacular ground-out by Melky off the third Sox reliever of the inning.
Ultimately, an entertaining game, but your opponent should not strike out 15 times and beat you. Your pitching can only do so much – though allowing four home runs doesn't help anyone, R.A….
THE GOOD
– As mentioned, dingers by EE, Dion(oth)er Day, and a pinch-hit dinger by Colby. All in clutch spots.
– Sergio Santos, though loading the bases and predictably making it interesting, struck out the side in the 8th to keep it a three-run game. His breaking ball was lethal tonight. Aaron Loup fanned two of his own.
– Kawasaki, as mentioned, had two more clutch hits to raise his average to .271, and also patiently walked on a full count. Melky had two hits of his own.
THE BAD
– Josh Thole and Anthony Gose (despite the clutch hit in the 9th) looked like liabilities at the plate tonight.
– Jose Reyes with an 0-for-5 night, and also committed the fielding error that would cost Dickey his early (and ultimately irrelevant) perfect game.
– Juan Francisco, dramatically coming off the bench as a pinch-hitter, struck out in the 7th and grounded out in the 9th. Thanks for showing up.
THE UGLY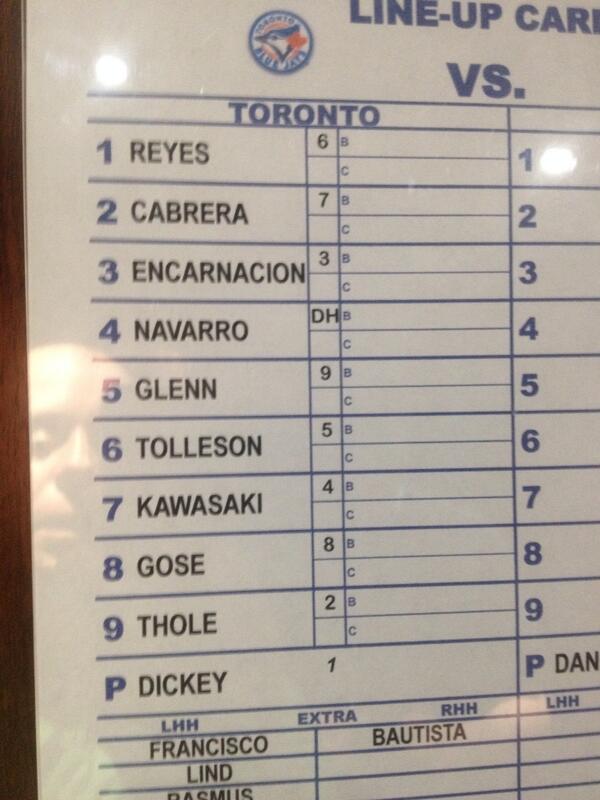 We've harped on it enough, but this lineup tonight.
Not sure what Gibby was thinking on this one.
The Navarro gamble in the clean-up spot paid off, so I'll concede taking Lind out against the lefty.
But with Gose seemingly unable to identify hittable pitches, and seemingly unwilling to bunt anymore, why wouldn't Rasmus get the start in his place, and bat, let's say, fifth or sixth?
There were four good pieces in the lineup tonight, with Thole an understood necessity – though a frustrating one, given Dickey's struggles and the general consensus that Erik Kratz would be a far better backup catcher.
A guy making his major league debut starting – neat. Hitting fifth? Really? Tolleson hitting sixth?
This game was a little bit on Gibby because this lineup was ugly.
THE NEAT
As Buck Martinez mentioned about a thousand times on tonight's broadcast, Dickey picked up his 1000'th career strikeout when he struck out Tyler Flowers in the third inning.
Dickey actually had a season-high nine strikeouts tonight. But he also allowed the most home runs he's allowed in a single game since he allowed six against Detroit back in 2006 – his first Major League start as a knuckleballer.
THE NEXT
It's a Marcus Stroman-Chris SALE showdown!
It will be exciting to watch for sure, as the young rookie is coming off his best start in the majors with eight slick innings against the Yankees.
But SALE is 6-1 with a 2.27 ERA. He's a tough lefty, and Gibby seems to hate starting good hitters who are left-handed against pitchers that fit that vague description.
So, essentially, it would only have helped them if they'd, you know, won tonight.
For Jays Balk, I'm @TheAsherRoth.