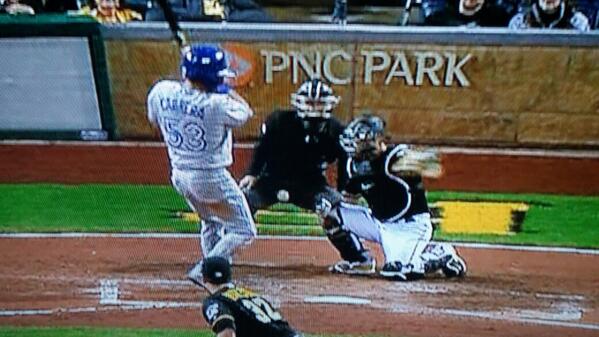 What's it been like watching the Blue Jays over the past two weeks? Ask home plate umpire Adam Hamari how it felt as that breaking ball jumped up and bit him in the gonads.
In many of the pieces I've written, I've talked about the need to take advantage of winnable games against winnable opponents if you're going to separate yourself from the rest of the pack.
Consider the following facts about tonight's 8-6 loss that should make you want to tear your hair out:
– Following a bat-around 4th inning in which the Jays scored four times and chased struggling starter Francisco Liriano from the game, they jumped out to what looked like a promising 5-0 lead.
– R.A. Dickey, despite walking four batters, had a promising line after 6 innings, allowing just 2 runs on 4 hits, and had a very active knuckleball tonight.
– The Jays hitters are starting to exhibit something resembling patience at the plate. Case in point, they forced reliever Vin Mazzaro to throw 32 pitches in the 5th inning.
– The Pirates made four errors. FOUR ERRORS. Why not just hand the game over on a silver platter?
That looks like a formula for winning a game, right? Except:
– Following that bat-around 4th, R.A. Dickey came out and loaded the bases with one out, including a four-pitch walk. He'd allow two that inning, giving the opponent belief in their offence.
– Dickey was visibly furious in the dugout after the 6th inning, after a strike call didn't go his way. Check it out: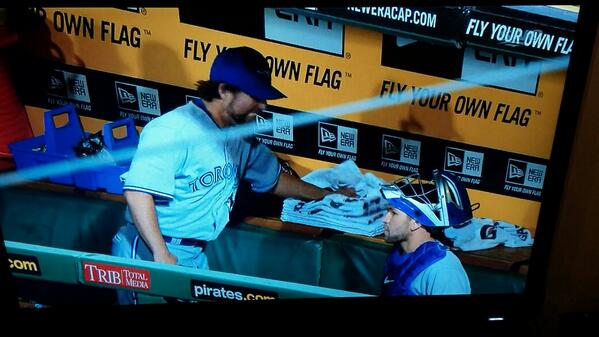 That's him karate-chopping a stack of towels. Look at him bearing those teeth!
So Gibby let him go out for the 7th, despite having thrown 102 pitches through 6. Naturally he kicked off the inning by allowing a lead-off double by 35-year-old utility-man, Clint Barmes.
– The Jays left the bases loaded in the 5th without scoring a single run.
Tonight, two guys come out wearing the goat horns.
Aaron Loup, the guy we mentioned was supposed to close tonight, came in for Dickey and promptly allowed his only inherited run to score, before allowing three runs of his own to tie the game.
It's unfortunate that Loup has to take the fall, since he's mostly been so effective this season.
The inherited run he allowed was the first he's allowed all year. He also allowed four hits tonight – he'd allowed 3 hits in 13.1 innings coming in. Opponents (coming in) were hitting .073 off him.
Which brings us to goat number 2: Gibby.
It's true, Loup hadn't allowed a hit against a right-handed hitter all year coming into this game.
That doesn't mean you bring him in to face a bunch of right-handed hitters. Then leave him in when he's clearly not at his best.
Then turn to Todd Redmond when the game is tied in the 8th inning.
Simply put, this was a poorly managed game. Sure, the one guy that's been mostly reliable shat the bed, but you've got to recognize when a guy isn't at his best and save the game when you can.
But you're starting to see what happens when a manager loses confidence in, you know, every arm in the bullpen.
THE GOOD
– Jose Bautista hit his 9th homer of the season – a laser beam just inside the foul pole in left. It was his first homer at PNC Park since he called it his home six seasons ago.
– Brett Lawrie added three more hits to raise his average to .232. So much for him being a bust…
– Josh Thole had two more hits, upping his average to .419. Most importantly, he (kind of) ran out an infield single. A hustling catcher?!
– Buck and Pat – seriously, if you get a chance, take a good listen to their analysis. I might argue that they're more enjoyable to listen to than the radio broadcast – and I never thought I'd say that.
THE BAD
– Hard to put Melky on this list, considering his start – but he was 0 for 4, including a three-pitch strikeout with the game on the line in the 9th.
– The Jays left nine more on base tonight – though this had a lot to do with the pitcher's spot in the order.
– Edwin was 0 for 4 – the Jays simply need more from the clean-up hitter who was so reliable the past two seasons.
THE UGLY
– Loup and Todd Redmond, over an inning and two thirds, allowed five runs on seven hits, walking three. Those innings being the 7th and 8th, when, you know, the game matters a fuck-tonne.
– 7 more walks for the Jays pitchers tonight…
– Instant Replay – I'm mentioning this because I can't pinpoint another specific ugly aspect of this game other than the end result, and I'm really getting tired of the momentum-killing delays.
We will debate this in the BalkCast, but regardless of the percentage of correct calls, there's something about a manager coming out and exploding on an umpire. It was simply part of the game – it's a momentum-shifting tactic. It's one of the conventions of the game that has sorely lacked this season, if you ask me.
THE NEAT TRULY BIZARRE
First of all: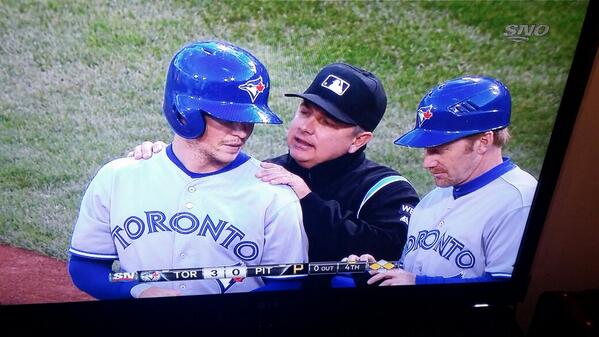 Can somebody please explain what is happening here?
Loosen up, kid! You look tense from where I'm standing! Lay off the breaking balls!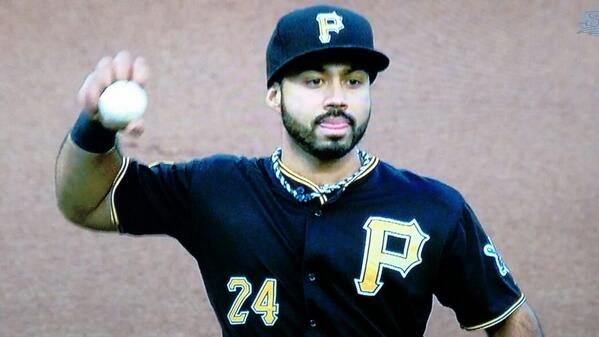 Speaking of loosening up, here's an adorable screenshot of Pedro Alvarez attempting to throw a knuckleball.
Don't judge me, folks. If they keep up this trend of blowing a huge lead in every single game I watch, these recaps are just going to descend into doodles and transcripts of my visits to the psychiatrist.
THE NEXT
Dustin McGowan looks to stave off his inevitable demotion to the bullpen as the Jays once again look to avoid a sweep.
He shouldn't worry too much though, as Brandon Morrow was placed on the 60-day DL after the game with a torn tendon sheath in his index finger. He should miss about two months.
Let that set in for just a second.
Essentially, the result of this game was so frustrating that I feel it's alright to bury the lead and not make a big deal about how Marcus Stroman is being brought up from AAA Buffalo to shore up the bullpen.
Usually you'd be excited when a team's top prospect is promoted, but that's when you're not aware of how it's obvious they have no other choices, or how rushing a prospect up with insufficient experience is a stupid move, or how you shouldn't bring a young guy trying to establish himself as a starter up to sit in the bullpen as a long reliever at the start of the 2nd month of the season.
*Sigh*
Anyway, Edinson Volquez gets the start for the Bucs on Sunday.
Blah blah blah, just hold on to a lead and win the f$%king game.
For Jays Balk, I'm @TheAsherRoth.